On 1 April 2021, some health insurance premiums changed, and it's expected for consumers around this time of year to query whether their current health fund and level of cover is right for them.
As a result, switching health funds has probably played on your mind recently, however, before you make the switch there are a few things you should evaluate first.
We'll talk you through a few tips and explain how easy the process can be to switch to a new health insurance provider like Territory Health Fund.
When can I switch health insurance providers?
You can switch your health insurance over to a new health insurance provider at any time. If, at the time of cancelling your health insurance policy you have paid your premium in advance, your current health insurance provider will be able refund you the pro-rata amount.
Factors you should consider before switching
What coverage will your new policy have?
Understanding what you'll be insured for under your new policy is extremely important. Always ensure that you are aware of the differences between your previous and new policy (i.e, whether your new policy has less or more cover and how this affects the cost). If your current health insurance provider has increased their premium and reduced the inclusions in your cover, it's probably a good time to review your policy.
What waiting periods will you have to satisfy before having access to your benefits?
If you switch to a policy with the same or a lower level of cover with a new health insurance provider, and have already served your waiting periods, you typically don't need to re-serve the waiting periods. However, in the event you have switched to a policy with a higher level of cover, and have not served waiting periods for this cover, you will need to serve waiting periods on only the upgraded components of the chosen cover. To make things easier, our helpful team will talk you through any applicable waiting periods at the time of joining.
What price difference will there be (saving or increase)?
We understand that price is undoubtedly going to be one of the largest drivers in your decision-making process. While this is the case for many consumers, it is really important that you have a good understanding of the inclusions and exclusions of your chosen level of cover. In some instances, although your new policy could be cheaper, you need to ask yourself "Is this policy going to meet my personal needs for now and into the future?"
Another factor to consider when thinking about price is the length of time your health fund will allow you to pre-pay your premium. At Territory Health Fund, we allow all Members to pre-pay their premiums up to two years in advance. If you do this prior to the 1 April premium increase each year, your annual premium will be calculated at the rate prior to the increase. To find out more about this, speak with our team.
What are your personal needs?
Evaluating the appropriate level of health insurance and extra's cover will vary from individual to individual. It's important that you are clear on what your personal needs are, and ensure you allow enough time to serve any waiting periods . Are you looking to have kids? Do you regularly visit the physiotherapist? These are some of the questions you may want to think about prior to taking out a policy. Our friendly team will make things easier for you by providing you with information, and asking some questions, to help you to determine the appropriate level of cover at the time of switching or taking out a new policy.
What happens when you switch to Territory Health Fund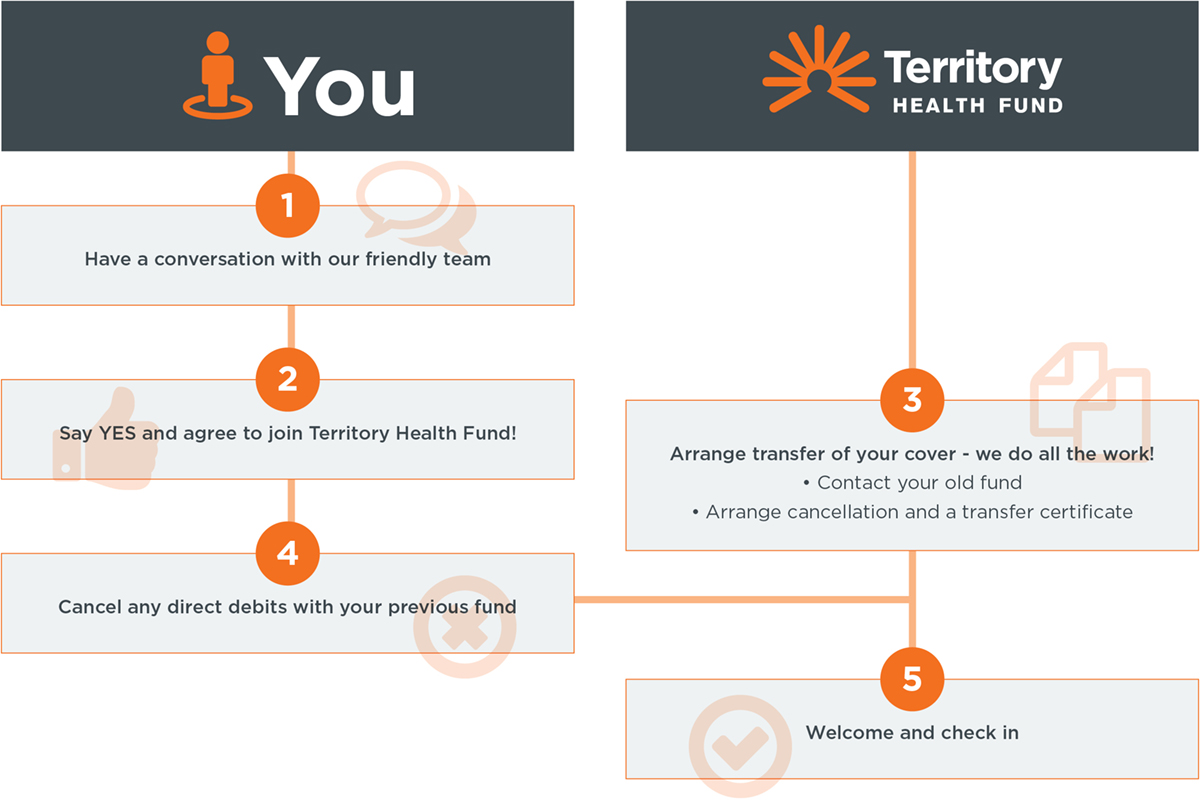 Will switching health insurance providers affect my Lifetime Health Cover (LHC) loading)?
In simple terms, no. As long as you maintain a hospital policy, changing health insurers should not affect your Lifetime Health Cover (LHC) loading status1. The LHC loading is a Government initiative that started on 1 July 2000 to encourage people to take out hospital cover earlier in life and encourage them to maintain it2.
If you are joining or transferring between health insurers, or if you fit into one of the new migrant or special circumstances categories, you will need to establish your LHC loading by supplying supporting .
Why you should switch to Territory Health Fund
Switching to Territory Health Fund couldn't be easier – we do all the work for you. Our team will work with your current Health Fund to cancel your existing policy to ensure you have continuity of cover. This means you won't need to re-serve any waiting periods when moving to the same level of cover. Plus, that made you sigh in relief, check out a range of other reasons why people have made the switch:
Easy to understand products
Our products are easy to understand and provide our Members with great value for money and peace of mind.
Excellent Service
We're here to help. Our commitment to helping our Members is second to none with fast and friendly service both face to face or over the phone.
National Coverage
We provide coverage anywhere in Australia, giving you peace of mind wherever you work, live or play.
Generous benefits
Our benefits help promote a healthy lifestyle and based on direct Member feedback, are regularly reviewed to ensure they remain competitive.
Easy claiming
Claim easily anywhere, anytime through our Mobile App by simply uploading a photo of your receipt or via our Online Member Services portal.
Switching health insurers doesn't need to be complicated. It's as easy as speaking to one of our friendly staff in person, getting a quote online or calling us to make the switch.
1. 2021. Switching Health Insurance: How to Change Providers. Accessed https://www.canstar.com.au/health-insurance/switching-health-insurance/
2. PrivateHealth.gov.au. 2021. Lifetime Health Cover. Accessed https://privatehealth.gov.au/health_insurance/surcharges_incentives/lifetime_health_cover.htm